The 76th "Social Science Lawyers" High-end Academic Forum and the 144th "Social Science JD Students" Academic Salon were held at the Graduate School of CASS University on the afternoon of March 15, 2019.
At the forum, Professor Chen Zexian, a former director of CASS Institute of International Law and Executive Chairman of the Criminal Law Research Committee of China Law Society, gave a lecture entitled "Several Frontier Issues of Criminal Law". The lecture was presided over by Professor Liu Renwen, Head of the Criminal Law Department of CASS Law Institute and Vice Chairman of the Criminology Research Committee of China Law Society, and attended by over 200 Ph.D. candidates, master of law students and JD students. Professor Lin Wei, Vice President of CASS University and Vice Chairman of the Case Law Research Committee of China Law Society, served as the commentator at the lecture.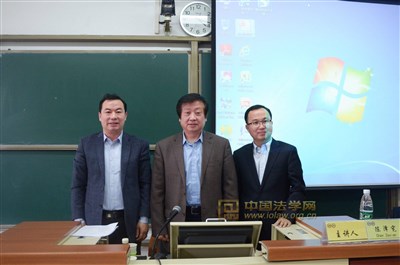 In the lecture, Professor Chen first gave a summarization of the main frontier theoretical issues in the field of criminal law at the current time and then analyzed the following five concrete hot issues: the understanding and application of the principle of a legally prescribed punishment for a specified crime; the contention between "the four elements doctrine" and "three strata doctrine" in the theory of constitution of crime; the determination of "justifiable defense" in judicial practice; the impact of AI technology on criminal law theory; and the legal analysis of the "Meng Wanzhou incident".