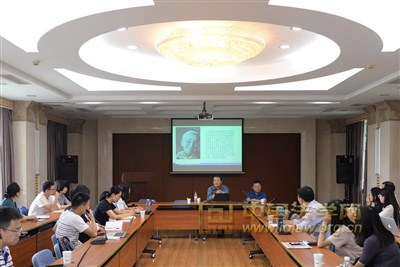 The Fifth Legal Innovation Forum of CASS Law Institute and CASS Institute of International Law in 2018was held inthe conference room of CASS Law Institute on the morning September 11, 2018.At the forum, Professor Zhao Lei, an executive researcher of the Innovation Project "Deepening the Reform of Commercial Legal System: Basic Strategy and Implementation Path", gave a lecture entitled "The Operation Mechanism, Application Scenarios and Regulation Logic of Blockchain". The lecture was presided over by Professor Chen Jie, the chief research of the Innovation Project. ProfessorZou Hailin, another executive researcher of the Innovation Project, served as a commentator at the lecture.
In the lecture Professor Zhao Lei discussed various issues relating to theme of the lecture, including the definition of blockchain, the relationship between blockchain and bitcoin, the characteristics and value, and application of operation and technical standard of blockchain.
After the lecture, Professor Zou Hailin made comments on some of the issues discussed in the lecture according to his own understandings. The lecture was attended by over 40 researchers of the two institutes as well as doctoral candidates and graduate students from the Law Faculty of CASS Graduate School.