On June 25, 2018, a delegation of Cuban Foreign Ministry, headed by Mr. Alberto Blanco, Director of the Asian Department of the Ministry, visited CASS Law Institute and held a meeting with Professor Mo Jihong, Deputy Director of CASS Law Institute and other staff members of the Institute. Other members of the delegation were Mr. Miguel Ángel Ramírez, the Cuban Ambassador to China, and four other officials from the embassy:Lisbet Quesada, Ms. Erianna Suárez, Ms. Mileidy Aguirre, and Ms. Helen Morales.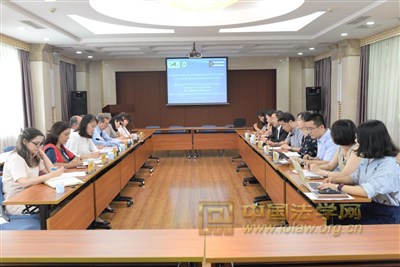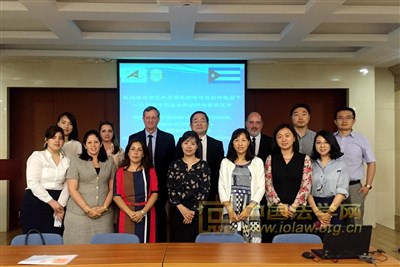 In the meeting, Professor Mo first extended warm welcome to Mr. Blanco and his colleagues, then reviewed the academic exchange between CASS Law Institute and the relevant Cuban institutions, as well as the hospitality of the Cuban peoplehe had received during his previous visit to Cuba. He pointed out the Sino-Cuban friendship and the exchange platform established by the older generations of revolutionaries are important basis of the future cooperation between the two countries. Currently Cuba is carrying out reforms. Although China and Cuba have different national conditions, the two countries have the same basic political system and can draw on each other's experience in reform and development.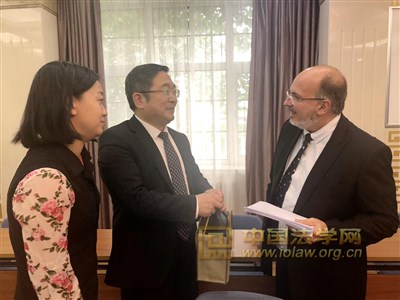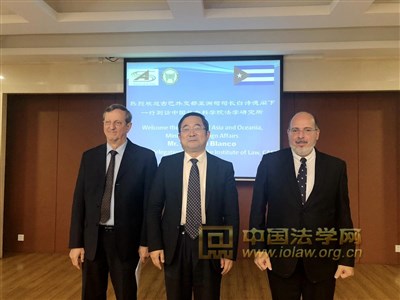 Mr. Blanco thanked Professor Mo for his hospitality and pointed out that Cuban and Chinese peoples have deep feeling for each other. Although the two countries have taken different roads to socialist construction, China has many years of experience of reform and opening up to the outside world. Therefore Cuban legal scholars are very eager to learn from the Chinese experience of legal reform and construction.
At the request of Cuban guests, Professor Mo introduced the main content of the Chinese Constitution and the content of and the motive forces behind each constitutional amendment. Professor ZhaiGuoqiang mainly introduced the relationship between the CPC and state administrative organs, the institutionalization and legalization of the CPC's leadership, and the procedure for the appointment of and the scope of functions and powers of the Prime Minister;Dr. Liu Zhixin introduced the relationship between legislation by the National People's Congress and the legislation by the State Council in China; and Professor Liu Xiaomei and Professor Li Xia introduced from the relationship between the construction of the rule of law and reform of the market economic system a series of reform measures adopted by China in the process of streamlining the government and delegation of power and the results of such measures.
At the end of the meeting, Mr. Blanco thanked the scholars of the CASS Law Institute for their detailed introductions and answers to his questions and expressed the intention of further promoting the academic exchange and cooperation between Cuba and China.